Everyone, meet Carrie from Dittle Dattle, Carrie, meet everyone. There. Introductions have been made :)
Carrie is one of those bloggers who's just so sweet that after a while you feel like you're actually friends. She replies to my comments with the nicest things (usually that I make her laugh :) I'm usually not a big fan of email replies to comments because often it's just "Thanks!" or "I'm glad you stopped by" which I feel aren't very meaningful, and seem like waste of people's time (on both ends). But Carrie sends very individualized replies which let you know how much she really appreciates your comments, and often they leave you with that warm fuzzy feeling.
In addition to being a super awesome all around person, Carrie's blog is FANTASTIC!
Every Monday she starts out the week with her link party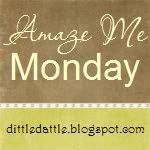 It's an "everything" party for readers to share decorating, crafting, tutorials, and other related projects.
The rest of the week is filled with wonderful projects that Carrie has made herself with a mix of real life (it's always nice to know that the bloggers you admire are human too!)
Awesome
stainless steel water bottles
(very enviro-friendly!)
Or more
vinyl magic....
if only I had a Kitchenaid mixer *sigh*
AND you should see the decorating she has done in her
kids' rooms!
I asked her when she wants to come do my room!!
You really should go on over and say hi!