Today I'd like to introduce you to Gail at
My Repurposed Life
. Gail is really the queen when it comes to being green! She takes trash and turns it into treasure.
So many of her creations are from furniture that people have given to her (anybody else find this happens to you when people find out you're crafty?) and then on top of that, a lot of the supplies she uses are "rescued" too. She has a collection of paint that are from the "oops" section of home depot, and a lot of the construction supplies come from the cull bin of big orange.
This is the before photo of her fireplace. You REALLY need to check out the
afters here
. I can't believe it. If you have a fireplace you're considering painting, once you see this, your mind will be made up!
The things this woman does with paint blows my mind! If it can be done, she's probably already done it (and will share what she's learned with you too.)
Can you guess what this is made from?
Click here
to see if you're right, and to read how she made it.
Gail also holds a weekly link party, which is open to everyone for pretty much everything.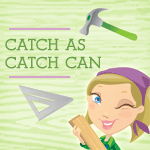 She's also a resident blogger for the DIY Club for 2011
Gail is one of the most talented and sweetest bloggers I've met. She replies to your comments with heartfelt responses, and every friday she posts about recent comments and questions she's received, answering them for everyone (we've all heard it a million times, but it really is true: if you have a question, you should ask it because someone else probably does too ;)
Head on over and check out Gail's transformations!