So instead the following weekend we went out to this wonderful Greek restaurant in town. There were 8 of us total (it was actually the same crowd that went to my
Just Because Party
) I suggested we go with Yianni's Meze. The short description, they keep bringing you dish after delicious dish of food.
First they bring you a greek salad, and pita and dip. There were four dips - tzatziki, kopanisti, melizano, and hummus. They were amazing, especially the kopanisti! It's basically a spicy feta dip. AMAZING.
Next was calamari and dolmades. I LOVE dolmades. When I was maybe 10 my mom worked with a lady who is Greek. One night she came over to our house and cooked for us and I vividly remember the dolmades. They also served us keftedes, which are greek meatballs. They had this super interesting cinnamon tomato sauce...mmmm.
This was the first time I'd had spanakopita, and it won't be the last! What's not to like about spinach and cheeses wrapped in phyllo pastry?!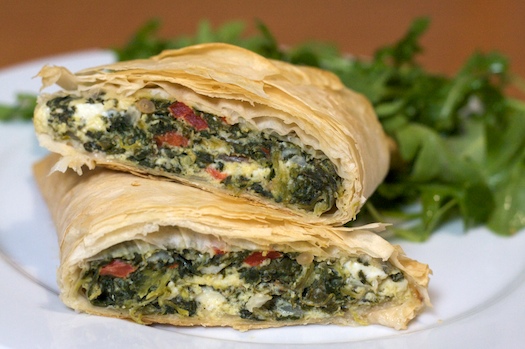 The last of the appetizers was a chicken orzo. It was quite tasty. By this time I knew I wouldn't have to eat for the next 3 days.
We finished off with the main course of roasted lamb, lemon potatoes, and veggies.
Great food, great friends - a wonderful way to spend my birthday!
BUT that's not all. My friends were even sweet enough to get me some gifts. My favorite thing about these gifts is that they were well thought out and meaningful!
Briana and Darren decided they would make me cookies. She wanted to make a white chocolate lime cookie, and he thought they should do something classic like gingersnaps with dark chocolate.
So what did they do? They made both!
They were SO delicious. I couldn't decide which one I liked better. The white chocolate lime cookies were soft - and that's a big winner in my book of cookies, but the gingersnaps were made with fresh ginger which you could really taste which was also amazing!
They even did the recipe up all pretty!!
My friend
Mega
n gave me this:
Ice Satin fondant, Ice Satin gum paste, gel colors, a fondant smoother, and a book of hers to borrow!
The cool this is that my boyfriend's birthday is 2 weeks after mine, so I wouldn't even have to wait long to play with my new toys!
I definitely have the best friends ever!