Alright - I'm imposing a self challenge here for Stashbusing September.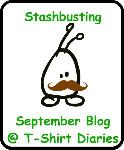 A large majority of my stash is scrapbooking stuff & fabric. So I plan to challenge myself to work extra hard to bust some fabric & paper stash.
Paper is the easy part. I plan to shoot for 3-5 cards/layouts a week. For inspiration I have a pinboard found here with some spectacular cards like these:
The fabric is going to be a bit more of an issue. I no longer have a good sewing machine, so most of my fabric busting will have to be sans-thread.
I definitely need to make this:
I have the letter, fabric and mod podge!
Keep your eyes peeled for all the crafty goodness I come up with! Watch for my guest post over at The T-Shirt Diaries on September 6th!